Visualization of gas dynamics discontinuities in supersonic flows using digital image processing methods
Keywords:
scientific visualization,
computational fluid dynamics,
flow,
shock wave,
contact discontinuity,
diffraction,
refraction
Abstract
A number of approaches to the detection of features of gas dynamics fields obtained with shock-capturing methods are considered. In order to determine the location and type of gas dynamic discontinuities from the numerical solution, the ideas and methods of digital image processing are applied, in particular, the methods of detection of image contours based on the brightness of the image. Conditions of dynamic compatibility are used to classify gas the dynamic discontinuities, such as the normal shock waves, the oblique shock waves, the tangential discontinuities, the contact discontinuities, and the compression waves. The developed approach is not dependent on a specific type of the problem to be solved and is applicable to the calculations obtained with any shock-capturing method, facilitating and speeding up the processing of simulation results and increasing the objectivity of the interpretation of the results. Some examples of visualization of gas dynamic discontinuities arising in the diffraction and refraction of shock waves are given.
References
Усков В.Н. Одномерная теория сопла Лаваля. СПб: Изд-во БГТУ, 2005.
Wu Z., Xu Y., Wang W., Hu R. Review of shock wave detection method in CFD post-processing // Chinese Journal of Aeronautics. 2013. Vol. 26, N 3. 501-513.
Волков К.Н., Емельянов В.Н., Тетерина И.В., Яковчук М.С. Методы и концепции визуализации вихревых течений в задачах вычислительной газовой динамики // Вычислительные методы и программирование. 2016. 17. 81-100.
Ворожцов Е.В. Классификация разрывов течения газа как задача распознавания образов. Препринт № 23-86. Новосибирск: Ин-т теоретической и прикладной механики РАН, 1986.
Базаров С.Б. Применение цифровой обработки изображений для визуализации результатов газодинамических расчетов // Применение методов научной визуализации в прикладных задачах. М.: Изд-во Моск. гос. ун-та, 2000. 39-42.
Hadjadj A., Kudryavtsev A. Computation and flow visualization in high-speed aerodynamics // Journal of Turbulence. 2005. Vol. 6, N 16. doi 10.1080/14685240500209775.
Lovely D., Haimes R. Shock detection from computational fluid dynamics results // AIAA Paper. 1999. doi: 10.2514/6.1999-3285.
Samtaney R., Zabusky N.J. Visualization, feature extraction and quantification of numerical visualization of high gradient compressible flows // Flow Visualization Techniques and Examples. London: Imperial College Press, 2000. 317-344.
Kanamori M., Suzuki K. Shock wave detection based on the theory of characteristics for CFD results // AIAA Paper. 2012. doi 10.2514/6.2011-3681.
Kanamori M., Suzuki K. Shock wave detection in two-dimensional flow based on the theory of characteristics from CFD data // Journal of Computational Physics. 2011. Vol. 230, N 8. 3085-3092.
Vorozhtsov E.V. On the classification of discontinuities by the pattern recognition method // Computers and Fluids. 1990. Vol. 18, N 1. 35-74.
Rosenfeld A., Kak A.C. Digital picture processing. New York: Academic Press, 1976.
Меженин А.В. Методы и средства распознавания образов и визуализации. СПб: Изд-во ИТМО, 2012. 130 с.
Афендиков А.Л., Луцкий А.Е., Плёнкин А.В. Вейвлетный анализ локализованных структур в идеальной и вязкой моделях // Математическое моделирование. 2011. 23, № 1. 41-50.
Булат П.В., Волков К.Н., Яковчук М.С. Визуализация течений с сильными и слабыми газодинамическими разрывами в вычислительной газовой динамике // Вычислительные методы и программирование. 2016. 17. 245-257.
Волков К.Н., Емельянов В.Н., Тетерина И.В., Яковчук М.С. Визуализация вихревых течений в вычислительной газовой динамике // Журнал вычислительной математики и математической физики. 2017. 57, № 8. 1374-1391.
Усков В.Н. Бегущие одномерные волны. Санкт-Петербург: Изд-во БГТУ, 2000. Усков В.Н. Одномерная теория сопла Лаваля. СПб: Изд-во БГТУ, 2005.
Адрианов А.Л., Старых А.Л., Усков В.Н. Интерференция стационарных газодинамических разрывов. Новосибирск: Наука, 1995.
Habashi W.G., Kotiuga P.L. Numerical solution of subsonic and transonic cascade flows // International Journal for Numerical Methods in Fluids. 1982. Vol. 2, N 4. 317-330.
Yabe T., Xiao F., Utsumi T. The constrained interpolation profile method for multiphase analysis // Journal of Computational Physics. 2001. Vol. 169, N 2. 556-593.
Ечкина Е.Ю., Базаров C.Б., Иновенков И.Н. Визуализация в научных исследованиях. М.: Изд-во Моск. гос. ун-та, 2006.
Cui S., Wang Y., Qian X., Deng Z. Image processing techniques in shockwave detection and modeling // Journal of Signal and Information Processing. 2013. Vol. 4, N 3B. 109-113.
Волков К.Н., Дерюгин Ю.Н., Емельянов В.Н., Козелков А.С., Тетерина И.В. Разностные схемы в задачах газовой динамики на неструктурированных сетках. Москва: Физматлит, 2015.
Osher S., Fedkiw R. Level set methods and dynamic implicit surfaces. New York: Springer, 2003.
Takayama K., Inoue O. Shock wave diffraction over a 90 degree sharp corner // Shock Waves. 1991. Vol. 1, N 4. 301-312.
Булат П.В., Волков К.Н. Численное моделирование дифракции ударной волны на прямом угле на неструктурированных сетках // Научно-технический вестник информационных технологий, механики и оптики. 2016. 16, № 2. 354-362.
Liang S.M., Chen H. Flow visualization of numerically simulated blast waves discharging from open-ended duct // AIAA Journal. 2003. Vol. 41, N 12. 2420-2428.
Ван-Дайк М. Альбом течений жидкости и газа. М.: Мир, 1986.
Nouragliev R.R., Sushchikh S.Y., Dinh T.N., Theofanous T.G. Shock wave refraction patterns at interfaces // International Journal of Multiphase Flow. 2005. Vol. 31, N 9. 969-995.
Булат П.В., Волков К.Н. Численное моделирование рефракции ударной волны на наклонном контактном разрыве // Научно-технический вестник информационных технологий, механики и оптики. 2016. 16, № 3. 550-558.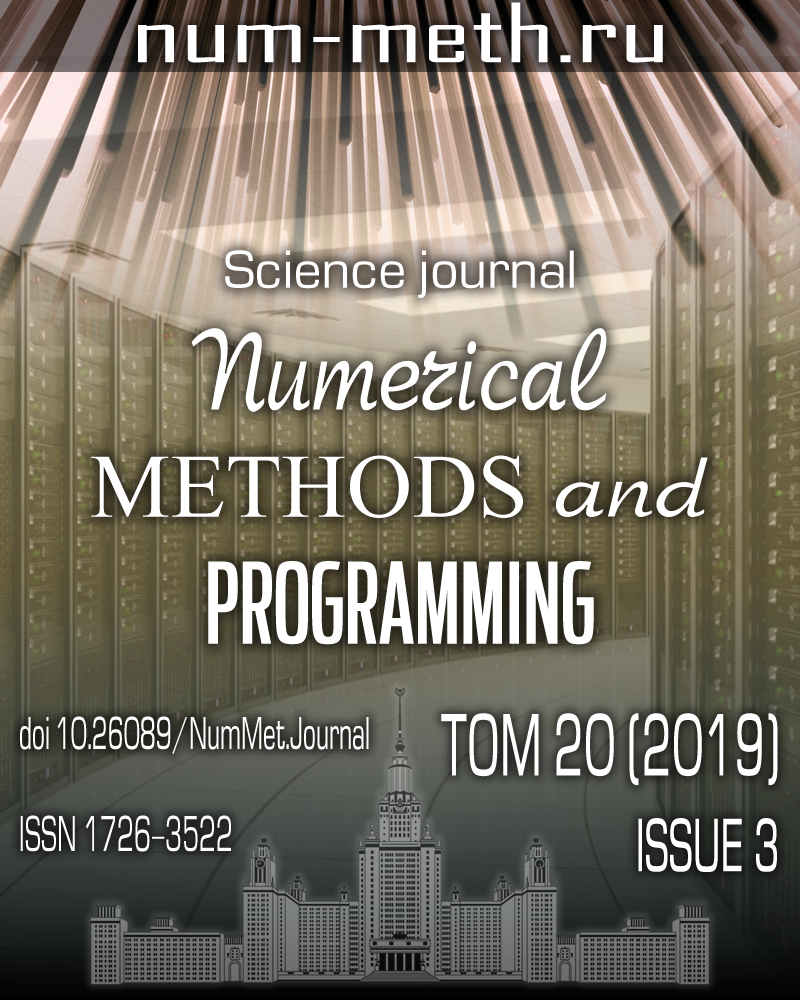 Downloads
How to Cite
Булат П.В., Волков К.Н. Visualization of Gas Dynamics Discontinuities in Supersonic Flows Using Digital Image Processing Methods // Numerical methods and programming. 2019. 20. 237-253. doi 10.26089/NumMet.v20r322
Section
Section 1. Numerical methods and applications