Spectral analysis of discrete signals with high frequency resolution
Keywords:
diffusion-convection equation,
difference scheme with weights,
optimal value of the weight parameter,
approximation error,
solution accuracy
Abstract
A difference scheme with weights for a homogeneous spatially one-dimensional diffusion-convection equation is studied. An analysis of the approximation error for the difference scheme as a time step function is performed on the basis of the expansion of the solution and approximation error in a trigonometric basis. An algorithm is proposed to find the optimal weight value that ensures the minimum approximation error of the solution to an initial boundary value problem for given values of the time grid steps. A better accuracy of the constructed scheme with the optimal weight compared to the explicit scheme as well as the efficiency of the algorithm for finding the optimal weight value is shown using a test problem.
References
Зубаков А.П. Фурье и вейвлет-преобразования в проблеме распознавания речи // Вестник Тамбовского университета. Серия: Естественные и технические науки. 2010. 15, № 6. 1893-1899.
Голубинский А.Н., Асташов Р.А. О частотно-временном разрешении кратковременного Фурье-анализа и непрерывного вейвлет-анализа при обработке речевых сигналов // Вестник Воронежского института МВД России. 2013. № 3. 4-11.
Рабинер Л., Гоулд Б. Теория и применение цифровой обработки сигналов. М.: Мир, 1978.
Гадзиковский В.И. Цифровая обработка сигналов. М.: СОЛОН-Пресс, 2013.
Выдрин Д.Ф., Абзалилова Ю.Р., Вдовин А.К. Быстрое преобразование Фурье в цифровой обработке сигналов // Теория и практика современной науки. 2017. № 2. 161-163.
Бокк Г.О. Оптимизация ассемблерного кода БПФ, ориентированного на обработку OFDM сигналов сотовых сетей связи // Экономика и качество систем связи. 2017. № 4. 40-51.
Бурцев А.А. Оптимизация алгоритмов быстрого преобразования Фурье для специализированного векторного сопроцессора с учетом иерархической структуры памяти // Труды научно-исследовательского Института системных исследований РАН. 2017. 7, № 4. 83-95.
Ишин П.А. Оптимизация преобразования Фурье под архитектуру Эльбрус // Современные информационные технологии и ИТ-образование. 2011. № 7. 683-691.
Галанина Н.А., Иванова Н.Н. Вычислительные аспекты быстрого преобразования Фурье и вопросы его реализации на ПЛИС // Вестник Чувашского университета. 2018. № 3. 172-181.
Капитанов А.А., Остапенков П.С. Реализация высокоскоростного блока быстрого преобразования Фурье на программируемых логических интегральных схемах // Вестник Московского энергетического института. 2015. № 2. 92-97.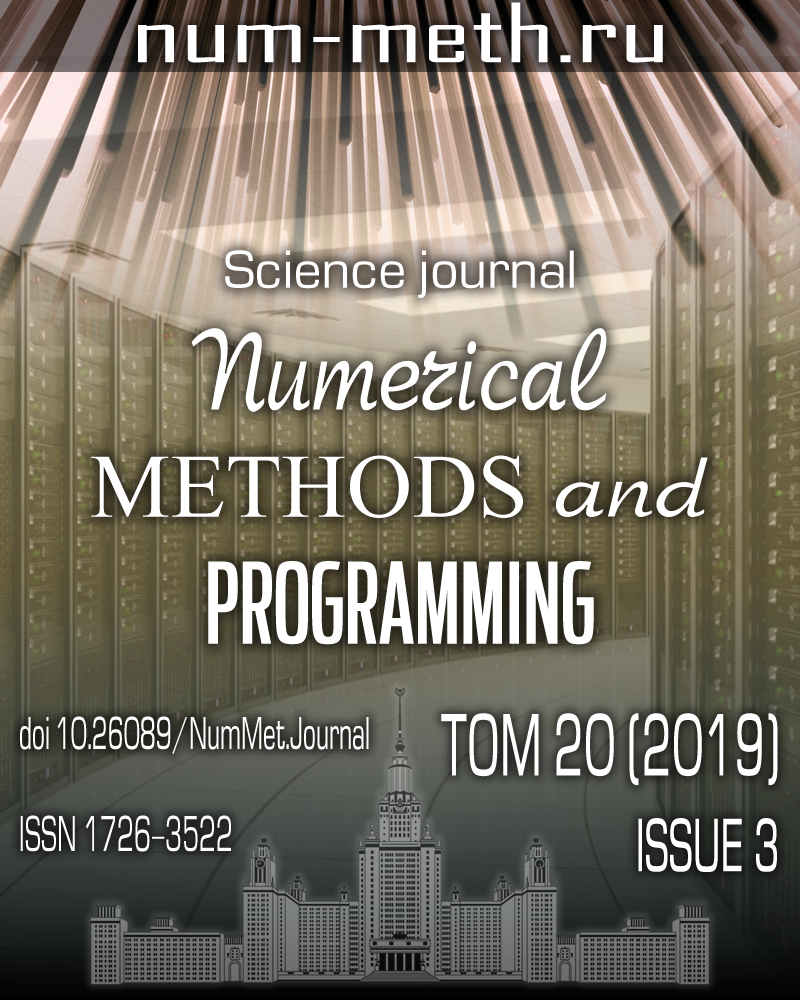 Downloads
How to Cite
Сухинов А.И., Чистяков А.Е., Сидорякина В.В., Проценко С.В. Spectral Analysis of Discrete Signals With High Frequency Resolution // Numerical methods and programming. 2019. 20. 283-292. doi 10.26089/NumMet.v20r325
Section
Section 1. Numerical methods and applications