On an iterative method for solving linear programming problems on cluster computing systems
The paper was recommended by the Programm Committee of th International Conference "Russian Supercomputing Days"
Keywords:
linear programming,
large-scale problems,
apex-method,
predictor–corrector framework,
iterative method,
parallel algorithm,
cluster computing system
Abstract
The paper is devoted to a new method for solving large-scale linear programming (LP) problems. This method is called the apex-method. The apex-method uses the predictor–corrector framework. Thepredictor step calculates a point belonging to the feasible region of the LP problem. The corrector step calculates a sequence of points converging to the exact solution of the LP problem. The paper gives a formal description of the apex-method and provides information about its parallel implementation in C++ language using the MPI library. The results of large-scale computational experiments on a cluster computing system to study the scalability of the apex method are discussed.
References
Jagadish H.V., Gehrke J., Labrinidis A., et al. Big data and its technical challenges // Communications of the ACM. 2014. 57, N 7. 86–94.
Hartung T. Making big sense from big data // Frontiers in Big Data. 2018. 1. doi 10.3389/fdata.2018.00005.
Соколинская И.М., Соколинский Л.Б. О решении задачи линейного программирования в эпоху больших данных // Параллельные вычислительные технологии — XI международная конференция, ПаВТ'2017, г. Казань, 3–7 апреля 2017 г. Челябинск: Издательский центр ЮУрГУ, 2017. 471–484.
Chung W. Applying large-scale linear programming in business analytics // Proc. 2015 IEEE International Conference on Industrial Engineering and Engineering Management (IEEM). New York: IEEE Press, 2016. 1860–1864.
Gondzio J., Gruca J.A., Hall J.A. J., et al. Solving large-scale optimization problems related to Bell's Theorem // Journal of Computational and Applied Mathematics. 2014. 263. 392-404.
Sodhi M.S. LP modeling for asset-liability management: a survey of choices and simplifications // Operations Research. 2005. 53, N 2. 181–196.
Brogaard J., Hendershott T., Riordan R. High-frequency trading and price discovery // Review of Financial Studies. 2014. 27, N 8. 2267–2306.
Bixby R.E. Solving real-world linear programs: a decade and more of progress // Operations research. 2002. 50, N 1. 3–15.
Dongarra J., Gottlieb S., Kramer W.T. C. Race to exascale // Computing in Science & Engineering. 2019. 21, N 1. 4–5.
Dantzig G.B. Linear programming and extensions. Princeton: Princeton Univ. Press, 1998.
Klee V., Minty G.J. How good is the simplex algorithm? // Inequalities–III. Vol. 3. New York: Academic Press, 1972. 159–175.
Jeroslow R.G. The simplex algorithm with the pivot rule of maximizing criterion improvement // Discrete Mathematics. 1973. 4, N 4. 367–377.
Zadeh N. A bad network problem for the simplex method and other minimum cost flow algorithms // Mathematical Programming. 1973. 5, N 1. 255–266.
Bartels R.H., Stoer J., Zenger Ch. A realization of the simplex method based on triangular decompositions // Handbook for Automatic Computation. Vol. II: Linear Algebra. Berlin: Springer, 1971. 152–190.
Tolla P. A survey of some linear programming methods // Concepts of Combinatorial Optimization. Hoboken: Wiley, 2014. 157–188.
Mamalis B., Pantziou G. Advances in the parallelization of the simplex method // Lecture Notes in Computer Science. Vol. 9295. Cham: Springer, 2015. 281–307.
Lubin M., Hall J.A. J., Petra C.G., Anitescu M. Parallel distributed-memory simplex for large-scale stochastic LP problems // Computational Optimization and Applications. 2013. 55, N 3. 571–596.
Хачиян Л.Г. Полиномиальный алгоритм в линейном программировании // Доклады АН СССР. 1979. 244, № 5. 1093–1096.
Шор Н.З. Метод отсечения с растяжением пространства для решения задач выпуклого программирования // Кибернетика. 1977. 13, № 1. 94–95.
Юдин Д.Б., Немировский А.С. Информационная сложность и эффективные методы решения выпуклых экстремальных задач // Экономика и математические методы. 1976. 12, № 2. 357–369.
Karmarkar N. A new polynomial-time algorithm for linear programming // Combinatorica. 1984. 4, N 4. 373–395.
Fathi-Hafshejani S., Mansouri H., Peyghami M.R., Chen S. Primal-dual interior-point method for linear optimization based on a kernel function with trigonometric growth term // Optimization. 2018. 67, N 10. 1605–1630.
Asadi S., Mansouri H. A Mehrotra type predictor–corrector interior-point algorithm for linear programming // Numerical Algebra, Control and Optimization. 2019. 9, N 2. 147–156.
Yuan Y. Implementation tricks of interior-point methods for large-scale linear programs // Proc. SPIE 8285. Graphic and Image Processing. 2011. doi: 10.1117/12.913019.
Kheirfam B., Haghighi M. A full-Newton step infeasible interior-point method for linear optimization based on a trigonometric kernel function // Optimization. 2016. 65, N 4. 841–857.
Xu Y., Zhang L., Zhang J. A full-modified-Newton step infeasible interior-point algorithm for linear optimization // Journal of Industrial and Management Optimization. 2016. 12, N 1. 103–116.
Roos C., Terlaky T., Vial J.-P. Interior point methods for linear optimization. New York: Springer, 2005.
Sokolinskaya I. Parallel method of pseudoprojection for linear inequalities // Parallel Computational Technologies. Vol. 910. Cham: Springer, 2018. 216–231.
Hafsteinsson H., Levkovitz R., Mitra G. Solving large scale linear programming problems using an interior point method on a massively parallel SIMD computer // Parallel Algorithms and Applications. 1994. 4, N 3–4. 301–316.
Karypis G., Gupta A., Kumar V. A parallel formulation of interior point algorithms // Proc. 1994 ACM/IEEE Conference on High Performance Computing, Networking, Storage, and Analysis. Los Alamitos: IEEE Press, 1994. 204–213.
Ершова А.В., Соколинская И.М. О сходимости масштабируемого алгоритма построения псевдопроекции на выпуклое замкнутое множество // Вестник ЮУрГУ. Серия: Математическое моделирование и программирование. 2011. № 37. 12–21.
Соколинская И.М., Соколинский Л.Б. Модифицированный следящий алгоритм для решения нестационарных задач линейного программирования на кластерных вычислительных системах с многоядерными ускорителями // Суперкомпьютерные дни в России: Труды международной конференции (26–27 сентября 2016 г., г. Москва). Москва: Изд-во МГУ, 2016. 294–306.
Соколинская И.М., Соколинский Л.Б. Исследование масштабируемости модифицированного алгоритма Чиммино для линейных неравенств // Суперкомпьютерные дни в России: Труды международной конференции (24–25 сентября 2018 г., г. Москва). Москва: Изд-во МГУ, 2018. 673–683.
Ерёмин И.И. Фейеровские методы для задач выпуклой и линейной оптимизации. Челябинск: Издательский центр ЮУрГУ, 2009.
Соколинская И.М., Соколинский Л.Б. Масштабируемый алгоритм для решения нестационарных задач линейного программирования // Вычислительные методы и программирование: новые вычислительные технологии. 2018. 19. 540-550.
Press W.H., Teukolsky S.A., Vetterling W.T., Flannery B.P. Numerical recipes: the art of scientific computing. New York: Cambridge Univ. Press, 2007.
Censor Y., Elfving T., Herman G.T., Nikazad T. On diagonally relaxed orthogonal projection methods // SIAM Journal on Scientific Computing. 2008. 30, N 1. 473–504.
Соколинский Л.Б., Соколинская И.М. Параллельный алгоритм решения нестационарных систем линейных неравенств // Параллельные вычислительные технологии — XIV международная конференция (ПаВТ'2020), г. Пермь, 31 марта–2 апреля 2020 г. Челябинск: Издательский центр ЮУрГУ, 2020. 275–286.
Ежова Н.А., Соколинский Л.Б. BSF: модель параллельных вычислений для многопроцессорных систем с распределенной памятью // Параллельные вычислительные технологии — XII международная конференция, ПаВТ'2018, г. Ростов-на-Дону, 2–6 апреля 2018 г. Челябинск: Издательский центр ЮУрГУ, 2018. 253–265.
Ежова Н.А., Соколинский Л.Б. Модель параллельных вычислений для многопроцессорных систем с распределенной памятью // Вестник ЮУрГУ. Серия: Вычислительная математика и информатика. 2018. 7, № 2. 32–49.
Sokolinsky L.B. BSF-skeleton [Electronic resource]. 2019. https://github.com/leonid-sokolinsky/BSF-skeleton (accessed: 27.08.2020).
Ежова Н.А., Соколинский Л.Б. Модель параллельных вычислений BSF-MR // Системы управления и информационные технологии. 2019. № 3. 15–21.
Kostenetskiy P.S., Safonov A.Y. SUSU supercomputer resources // Proc. 10th Annual International Scientific Conference on Parallel Computing Technologies (PCT 2016). CEURWorkshop Proceedings. Vol. 1576. 2016. 561-573.
Gay D.M. Netlib-Lp [Electronic resource]. URL: http://www.netlib.org/lp/ (accessed: 27.08.2020).
Koch T. The final NETLIB-LP results // Operations Research Letters. 2004. 32, N 2. 138–142.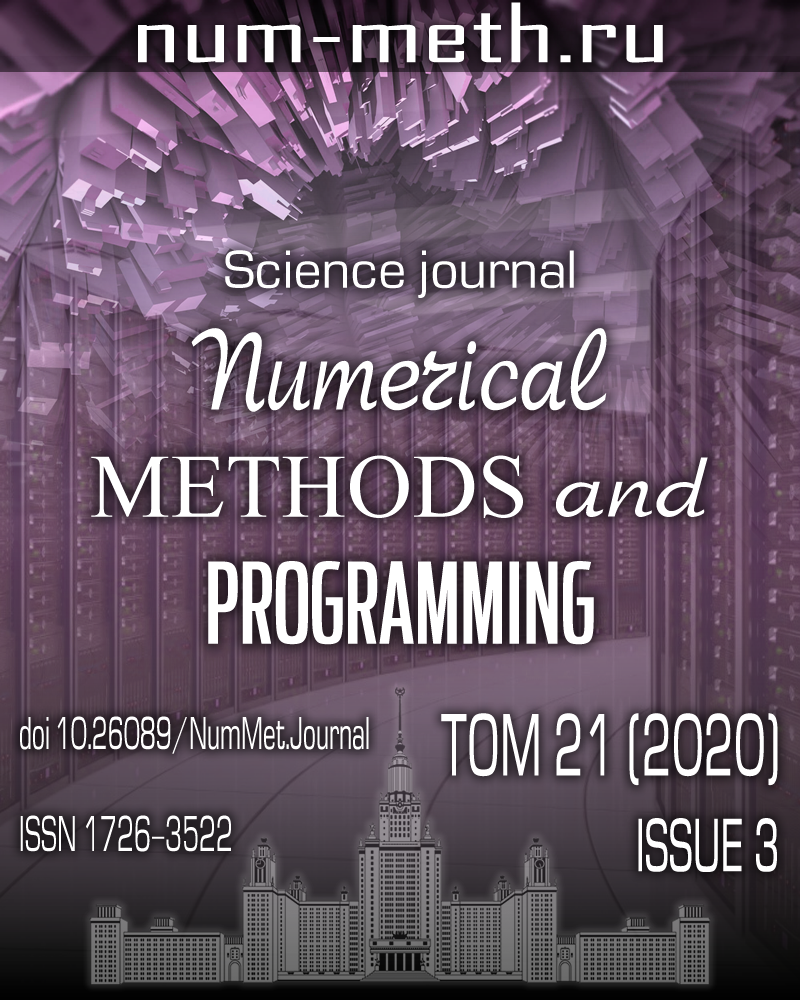 Downloads
How to Cite
Соколинский Л.Б., Соколинская И.М. On an Iterative Method for Solving Linear Programming Problems on Cluster Computing Systems: The Paper Was Recommended by the Programm Committee of Th International Conference "Russian Supercomputing Days" // Numerical methods and programming. 2020. 21. 329-340. doi 10.26089/NumMet.v21r328
Section
Parallel software tools and technologies