Numerical solution of direct chemical kinetics problems on the basis of modern information technologies
Keywords:
программный пакет,
прямая задача химической кинетики,
углеводород,
информационные технологии,
математическое моделирование,
численное решение
Abstract
The ChemPAK program package for solving direct chemical kinetics problems with arbitrary number of chemical reactions is considered. The package contains an expandable library of computational modules and provides data transfer to multiprocessor systems. Using the ChemPAK software package, the problem of applicability of kinetic schemes for the C1-C2 hydrocarbon's pyrolysis to modeling the physico-chemical processes in gas-dynamic reactors with emission is solved.
References
Буянов Р.А., Васильева Н.А., Пармон В.Н., Поздняков Г.А., Правдин С.С., Снытников В.Н., Фомин В.М., Фомичев В.М., Шепеленко В.Н. Эндотермический химический реактор с газодинамическим управлением. Препринт № 5-2001 ИТПМ СО РАН. Новосибирск, 2001.
Бабкин B.C., Бабушок В.И., Дробышев Ю.П., Молин Ю.Н., Новиков Е.А., Скубневская Г.И. Автоматический банк кинетической информации, общее описание. Препринт ВЦ СО АН СССР. 704. Новосибирск, 1987.
Физико-химические процессы в газовой динамике: Компьютеризированный справочник. 1. Динамика физико- химических процессов в газе и плазме / Под ред. Г.Г. Черного и С.А. Лосева. М.: Изд-во МГУ, 1995.
Мигун А.Н., Матвейчик Е.А., Чернухо А.П., Жданок С.А. Объектно-ориентированный подход к моделированию химической кинетики // ИФЖ. 2005. 78, № 1. 153-158.
Замараев К.И. Химическая кинетика. Курс лекций. Новосибирск: Изд-во НГУ, 1994.
Хайрер Э., Нерсетт С., Ваннер Г. Решение обыкновенных дифференциальных уравнений, нежесткие задачи. М.: Мир, 1990.
Хайрер Э., Ваннер Г. Решение обыкновенных дифференциальных уравнений, жесткие и дифференциально- алгебраические задачи. М.: Мир, 1999.
Вшивков В.А., Скляр О.П., Снытников В.Н., Черных И.Г. Применение пакета ChemPAK при моделировании газодинамического реактора // Вычислительные технологии (в печати).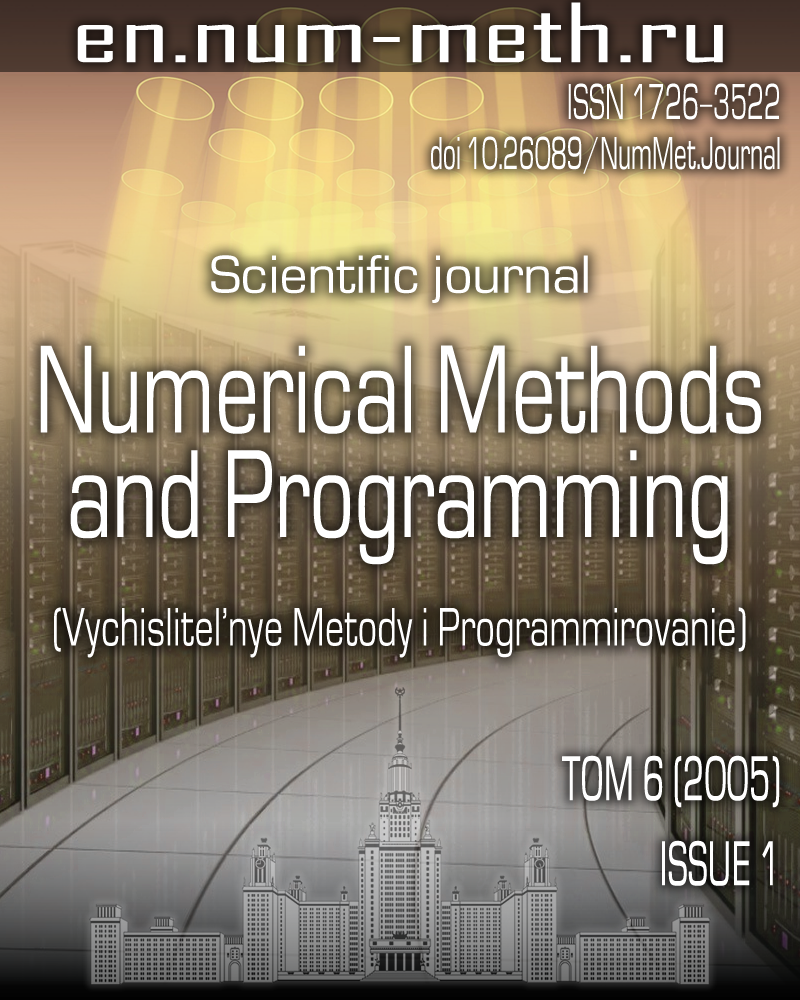 Downloads
How to Cite
Вшивков В.А., Черных И.Г., Снытников В.Н. Numerical Solution of Direct Chemical Kinetics Problems on the Basis of Modern Information Technologies // Numerical Methods and Programming (Vychislitel'nye Metody i Programmirovanie). 2005. 6. 71-76
Section
Section 2. Programming