Numerical integration of ordinary differential equations with the use of Chebyshev's series
Keywords:
многочлены Чебышева,
численный анализ,
численные методы,
обыкновенные дифференциальные уравнения,
задача Коши,
ортогональные разложения,
численно-аналитические методы,
сходимость
Abstract
We consider numerical analytical methods of approximate solving Cauchy problems for systems of ordinary differential equations of first and second orders. These methods are based on the expansions of the solution and its derivative into shifted Chebyshev's series at each integration step by Chebyshev's polynomial of the first kind. Some relations connecting Chebyshev's coefficients of the solution with Chebyshev's coefficients of the right-hand side of the system being solved are obtained. A representation of the solution as a functional series derived on the basis of integrals of Chebyshev's polynomials is studied. A number of equations for approximate values of Chebyshev's coefficients for the right-hand side of the system are deduced. An iterative process of their solution is described. Some error estimates for approximate Chebyshev's coefficients and for an approximate solution relative to the step length are given.
References
Татевян С.К., Сорокин Н.А., Залёткин С.Ф. Численное интегрирование обыкновенных дифференциальных уравнений на основе локальных многочленных приближений // Вычислительные методы и программирование. 2000. 1. 30-63.
Татевян С.К., Сорокин Н.А., Залёткин С.Ф. О построении многочленных приближений при численном решении обыкновенных дифференциальных уравнений // Вычислительные методы и программирование. 2001. 2, № 1. 60-68.
Люстерник Л.А., Червоненкис О.А., Янпольский А.Р. Математический анализ. Вычисление элементарных функций. М.: Физматгиз, 1963.
Пашковский С. Вычислительные применения многочленов и рядов Чебышёва. М.: Наука, 1983.
Татевян С.К., Сорокин Н.А., Залёткин С.Ф. Формула численного интегрирования Маркова и ее применение в ортогональных разложениях // Вычислительные методы и программирование. 2001. 2, № 2. 44-70.
Петровский И.Г. Лекции по теории обыкновенных дифференциальных уравнений. М.: Изд-во Моск. ун-та, 1984.
Ильин В.А., Садовничий В.А., Сендов Бл.Х. Математический анализ. Начальный курс. М.: Изд-во Моск. ун-та, 1985.
Ильин В.А., Садовничий В.А., Сендов Бл.Х. Математический анализ. Продолжение курса. М.: Изд-во Моск. ун-та, 1987.
Березин И.С., Жидков Н.П. Методы вычислений. 1, 2. М.: Физматгиз, 1962.
Бахвалов Н.С., Жидков Н.П., Кобельков Г.М. Численные методы. М.: Наука, 1987.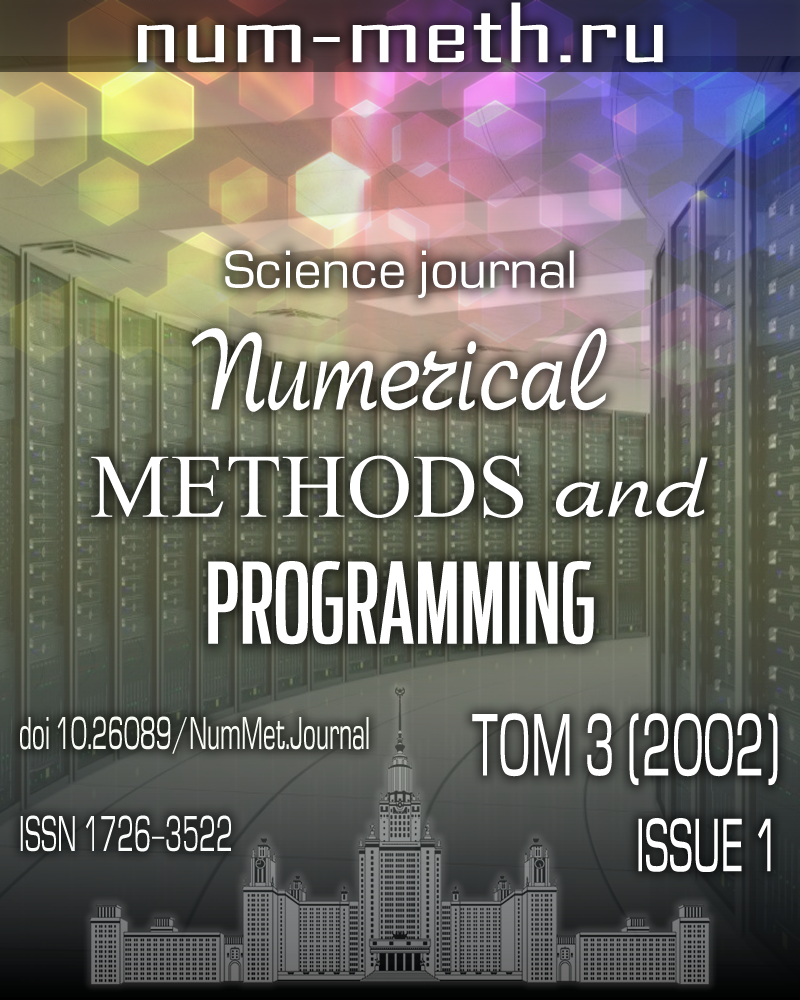 Downloads
How to Cite
Татевян С.К., Сорокин Н.А., Залëткин С.Ф. Numerical Integration of Ordinary Differential Equations With the Use of Chebyshev's Series // Numerical methods and programming. 2002. 3. 52-81
Section
Section 1. Numerical methods and applications