VIGOLT system for solving transport logistics optimization problems
Keywords:
mathematical modeling,
software,
numerical methods,
parallel computing,
transport logistics
Abstract
VIGOLT system is described. The system is used to solve a number of logistic problems given in continuous formulation: the optimal path problem, the problem of optimal location for logistic objects and the segmentation problem of logistic areas. Numerical algorithms based on optical-geometrical analogy are implemented. A parallel algorithm for solving the optimal location problem for several logistic objects is proposed. The algorithms are tested on various multiprocessor computers. This work was supported by the Russian Foundation for Basic Research (project N 11-07-00245).
References
Казаков А.Л., Лемперт А.А. Об одном подходе к решению задач оптимизации, возникающих в транспортной логистике // Автоматика и телемеханика. 2011. № 7. 50-57.
Казаков А.Л., Лемперт А.А., Бухаров Д.С. Об одном численном методе решения некоторых задач оптимизации, возникающих в транспортной логистике // Вестник ИрГТУ. 2011. № 6. 6-12.
Матвийчук А.Р., Ушаков В.Н. О построении разрешающих управлений в задачах управления с фазовыми ограничениями // Известия РАН. Теория и системы управления. 2006. № 1. 5-20.
Ушаков В.Н., Матвийчук А.Р. Один метод решения задач управления протяженными объектами на конечном промежутке времени // Тр. IX Междунар. Четаевской конференции «Аналитическая механика, устойчивость и управление движением». 3. Иркутск: ИДСТУ СО РАН, 2007. 253-261.
Башуров В.В., Филимоненкова Т.И. Математические модели безопасности. Новосибирск: Наука, 2009.
Ланцош К. Вариационные принципы механики. М.: Физматгиз, 1965.
Бухаров Д.С. Определение оптимального количества и расположения логистических центров: математическая модель и численный метод // Вестник ИрГТУ. 2012. № 4. 8-14.
Таненбаум Э. Современные операционные системы. СПб.: Питер, 2010.
Арнольд В.И. Особенности каустик и волновых фронтов. М.: ФАЗИС, 1996.
Казаков А.Л., Журавская М.А., Лемперт А.А. Вопросы сегментации логистических платформ в условиях становления региональной логистики // Транспорт Урала. 2010. № 4. 17-20.
Журавская М.А., Казаков А.Л., Лемперт А.А., Бухаров Д.С. О методе решения задачи оптимальной прокладки высокоскоростных железнодорожных магистралей с учетом региональных особенностей // Транспорт: наука, техника, управление. 2012. № 2. 41-44.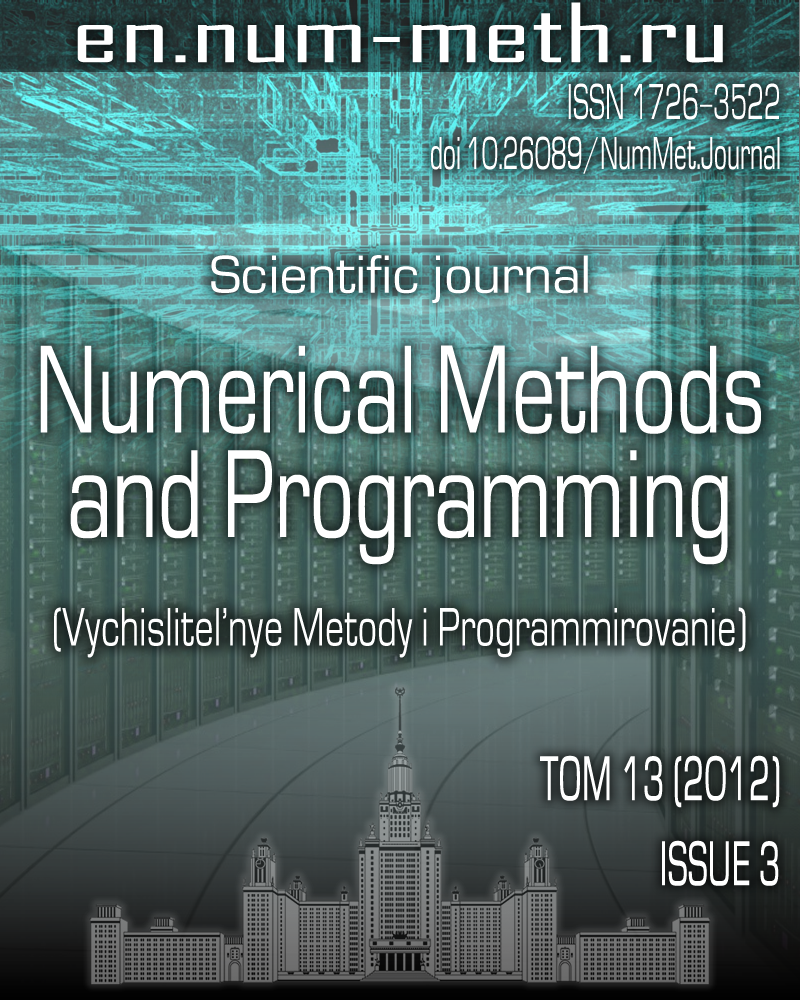 Downloads
How to Cite
Бухаров Д., Казаков А. VIGOLT System for Solving Transport Logistics Optimization Problems // Numerical Methods and Programming (Vychislitel'nye Metody i Programmirovanie). 2012. 13. 65-74
Section
Section 2. Programming