A family of quadrature formulas for solving boundary integral equations
Keywords:
double-layer potential,
integral equations,
corner points,
condensing grids,
quadrature method
Abstract
A family of exponentially convergent quadrature formulas is proposed for a class of functions with weak singularity. The results obtained are used to solve the boundary integral equations of harmonic potential theory in domains with corner points.
References
Арушанян И.О. О численном решении граничных интегральных уравнений второго рода в областях с угловыми точками // Ж. вычисл. матем. и матем. физ. 1996. 36, № 5. 537-548.
Бахвалов Н.С. Об оптимальной скорости интегрирования аналитических функций // Ж. вычисл. матем. и матем. физ. 1967. 7, № 5. 1011-1020.
Заргарян С.С. Об асимптотике решений системы сингулярных интегральных уравнений, порожденной уравнениями Ламе в окрестности угловых точек контура // Докл. АН Арм. ССР. 1983. 77, № 4. 437-439.
Мазья В.Г. Граничные интегральные уравнения // Итоги науки и техники. 27. М.: ВИНИТИ, 1988. 131-228.
Bremer J., Rokhlin V. Efficient discretization of Laplace boundary integral equations on polygonal domains // J. Comput. Phys. 2010. 229, N 7. 2507-2525.
Graham I.G., Chandler G.A. High-order methods for linear functionals of solutions of second kind integral equations // SIAM J. Numer. Anal. 1988. 25, N 5. 1118-1137.
Helsing J., Ojala R. Corner singularities for elliptic problems: integral equations, graded meshes, quadrature, and compressed inverse preconditioning // J. Comput. Phys. 2008. 227, N 20. 8820-8840.
Kress R. A Nyström method for boundary integral equations in domains with corners // Numer. Math. 1990. 58, N 2. 145-161.
Kress R. Linear integral equations. Berlin: Springer, 2012.
Arushanyan I.O., Drutsa A.V., Kobel'kov G.M. The finite difference method for solving a system of equations of tide dynamics // Differential Eqiations. 2009. 45, N 7. 983-990.
Arushanian I.O., Kobelkov G.M. Implementation of a least-squares finite element method for solving the Stokes problem with a parameter // Numerical Linear Algebra with Applications. 1999. 6, N 7. 587-597.
Arushanyan I.O. On the numerical solution of boundary integral equations of the second kind in domains with corner points // Computational Mathematics and Mathematical Physics. 1996. 36, N 6. 773-782.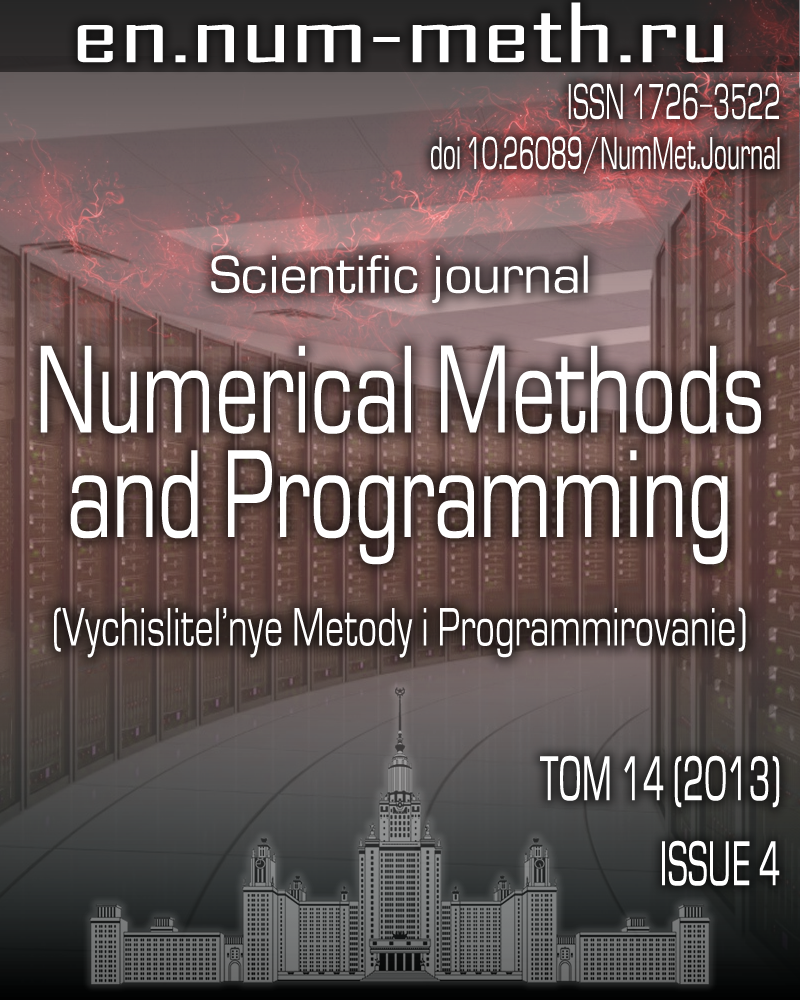 Downloads
How to Cite
Арушанян И.О. A Family of Quadrature Formulas for Solving Boundary Integral Equations // Numerical Methods and Programming (Vychislitel'nye Metody i Programmirovanie). 2013. 14. 461-467
Section
Section 1. Numerical methods and applications