Using Intel Xeon Phi coprocessors for execution of natural join on compressed data
Keywords:
columnar data representation,
columnar indexes,
database coprocessor,
interval fragmentation,
parallel database system,
cluster computing systems with many-core accelerators,
Intel Xeon Phi
Abstract
A database coprocessor for high-performance cluster computing systems with many-core accelerators is described. This coprocessor uses distributed columnar indexes with interval fragmentation. The operation of the coprocessor engine is considered by an example of natural join processing. The parallel decomposition of natural join operator is performed using distributed columnar indexes. The proposed approach allow one to perform relational operators on computing clusters without massive data exchange. The results of computational experiments on Intel Xeon Phi confirm the efficiency of the developed methods and algorithms.
References
Соколинский Л.Б. Параллельные системы баз данных. М.: Изд-во Моск. ун-та, 2013.
Sokolinsky L.B. Design and evaluation of database multiprocessor architecture with high data availability // Proc. 12th Int. Workshop on Database and Expert Systems Applications. Washington: IEEE Press, 2001. 115-120.
Sokolinsky L.B. Operating system support for a parallel DBMS with an hierarchical shared-nothing architecture // Proc. 3-rd East European Conf. Advances in Databases and Information Systems. Maribor: Inst. of Informatics, 1999. 38-45.
Соколинский Л.Б., Цымблер М.Л. Принципы реализации системы управления файлами в параллельной СУБД Омега для МВС-100 // Вестник Челябинского ун-та. Сер. 3. Математика, механика. 1999. № 2. 78-96.
Fang J., Varbanescu A.L., Sips H. Sesame: a user-transparent optimizing framework for many-core processors // Proc. 13th IEEE/ACM Int. Symp. on Cluster, Cloud and Grid Computing. New York: IEEE Press, 2013. 70-73.
Scherger M. Design of an in-memory database engine using Intel Xeon Phi coprocessors // Proc. Int. Conf. on Parallel and Distributed Processing Techniques and Applications. Las Vegas: CSREA Press, 2014. 21-27.
Bress S., Beier F., Rauhe H., et al. Efficient co-processor utilization in database query processing // Information Systems. 2013. 38, N 8. 1084-1096.
Беседин К.Ю., Костенецкий П.С. Применения многоядерных сопроцессоров в параллельных системах баз данных // Тр. Международной научной конференции «Параллельные вычислительные технологии» (ПаВТ'2013). Челябинск: Издательский центр ЮУрГУ, 2013. 583.
Khoshafian S., Copeland G.P., Jagodis T., Boral H., Valduriez P. A query processing strategy for the decomposed storage model // Proc. 3rd Int. Conf. on Data Engineering. Washington: IEEE Press, 1987. 636-643.
Stonebraker M., Abadi D.J., Batkin A., Chen X., Cherniack M., Ferreira M., Lau E., Lin A., Madden S.R., O'Neil E.J., O'Neil P.E., Rasin A., Tran N., Zdonik S.B. C-Store: a column-oriented DBMS // Proc. 31st Int. Conf. on Very Large Data Bases. New York: ACM Press, 2005. 553-564.
Boncz P., Zukowski M., Nes N. MonetDB/X100: hyper-pipelining query execution // Electronic Proc. 2nd Biennial Conf. on Innovative Data Systems Research, pp. 225-237 (http://www.cidrdb.org/cidr2005/call.html).
Иванова Е.В., Соколинский Л.Б. Использование распределенных колоночных индексов для выполнения запросов к сверхбольшим базам данных // Тр. Международной научной конференции «Параллельные вычислительные технологии (ПАВТ'2014). Челябинск: Издательский центр ЮУрГУ, 2014. 270-275.
Иванова Е.В. Использование распределенных колоночных хеш-индексов для обработки запросов к сверхбольшим базам данных // Тр. Международной научной конференции «Научный сервис в сети Интернет: многообразие суперкомпьютерных миров». М.: Изд-во Моск. ун-та, 2014. 102-104.
Иванова Е.В., Соколинский Л.Б. Декомпозиция операций пересечения и соединения на основе доменно-интервальной фрагментации колоночных индексов // Вестник Южно-Уральского государственного университета. Серия: Вычислительная математика и информатика. 2015. 4, № 1. 44-56.
Гарсиа-Молина Г., Ульман Дж., Уидом Дж. Системы баз данных. Полный курс. М.: Вильямс. 2004.
Прототип сопроцессора баз данных для распределенных колоночных индексов // (https://github.com/elena-ivanova/colomnindices).
Gray J., Sundaresan P., Englert S., Baclawski K., Weinberger P.J. Quickly generating billion-record synthetic databases // Proc. ACM SIGMOD Int. Conf. on Management of Data. New York: ACM Press, 1994. 243-252.
Roelofs G., Gailly J., Adler M. Zlib home page (http://www.zlib.net).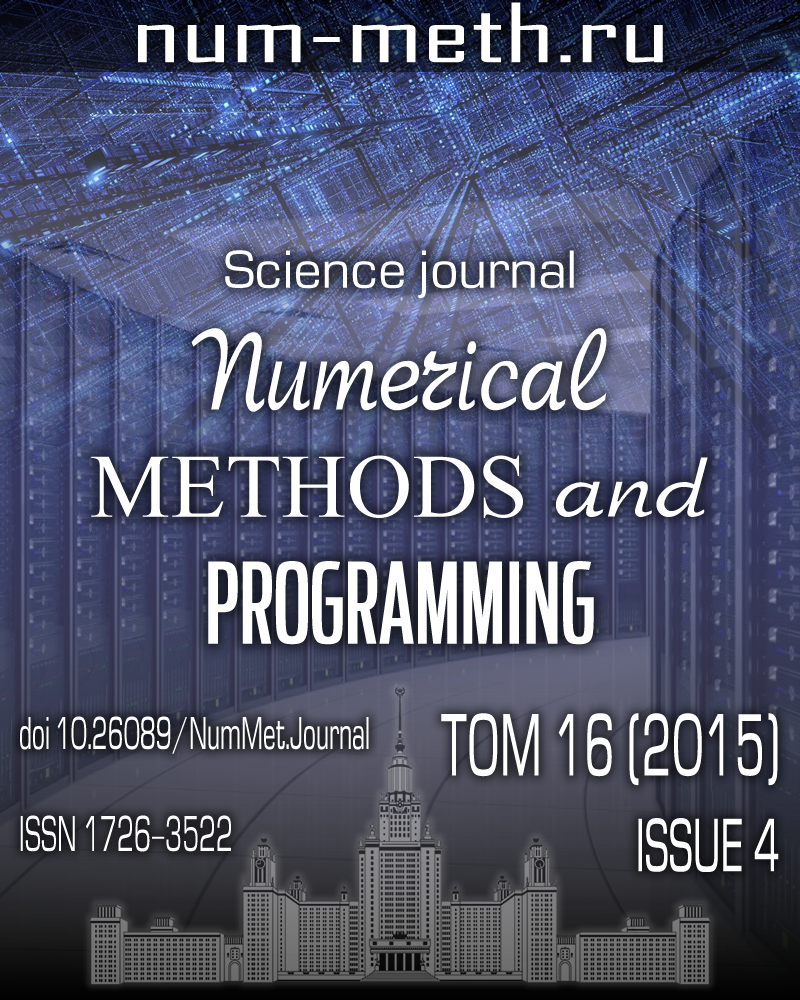 Downloads
How to Cite
Иванова Е.В., Соколинский Л.Б. Using Intel Xeon Phi Coprocessors for Execution of Natural Join on Compressed Data // Numerical methods and programming. 2015. 16. 534-542. doi 10.26089/NumMet.v16r450
Section
Section 1. Numerical methods and applications