Specific features of mathematical modeling of flows with detonation waves on unstructured computational grids
Keywords:
spectral theory of differential operators,
geometric graph,
Sturm-Liouville operator,
spectral problems
Abstract
A mathematical model and a numerical algorithm for the mathematical modeling of two-dimensional flows with detonation waves on fully unstructured computational grids with triangular cells are proposed. The problem concerning the formation of cellular detonation in a plane channel in the case of stable detonation for different grid resolutions and with the use of first and second order schemes is considered.
References
Taki S., Fujiwara T. Numerical analysis of two-dimensional nonsteady detonations // AIAA Journal. 1978. 16, N 1. 73-77.
Марков В.В. Численное моделирование образования многофронтовой структуры детонационной волны // Доклады Академии наук СССР. 1981. 258, № 2. 314-317.
Higgins A.J. Approaching detonation dynamics as an ensemble of interacting waves // Proc. of 25th Int. Colloquium on the Dynamics of Explosions and Reactive Systems (ICDERS). 2nd-7th August 2015. Leeds, UK. Paper PL3.
Semenov I., Utkin P., Akhmedyanov I. Mathematical modeling of detonation initiation via flow cumulation effects // Progress in Propulsion Physics. Vol. 8. 2016. 8. 389-406. doi 10.1051/eucass/201608389.
Семенов И.В., Уткин П.С., Марков В.В. Численное моделирование двумерных детонационных течений на многопроцессорной вычислительной технике // Вычислительные методы и программирование. 2008. 9. 119-128.
Левин В.А., Мануйлович И.С., Марков В.В. Инициирование и распространение многомерных волн детонации // Физика горения и взрыва. 2015. 51, № 1. 47-56.
Дубровский А.В., Иванов В.С., Зангиев А.Э., Фролов С.М. Трехмерное численное моделирование характеристик прямоточной воздушно-реактивной силовой установки с непрерывно-детонационной камерой сгорания в условиях сверхзвукового полета // Химическая физика. 2016. 35, № 6. 49-63.
Hu C., Shu C.-W. Weighted essentially non-oscillatory schemes on triangular meshes // Journal of Computational Physics. 1999. 150, N 1. 97-127.
Figueira da Silva L.F., Azevedo J.L. F., Korzenowski H. Unstructured adaptive grid flow simulations of inert and reactive gas mixtures // Journal of Computational Physics. 2000. 160, N 2. 522-540.
Togashi F., Löhner R., Tsuboi N. Numerical simulation of extH_2/air detonation using unstructured mesh // Shock Waves. 2009. 19, N 2. 151-162.
Shen H., Parsani M. The role of multidimensional instabilities in direct initiation of gaseous detonations in free space // Journal of Fluid Mechanics. 2017. 813. doi 10.1017/jfm.2017.5.
Лопато А.И., Уткин П.С. Математическое моделирование пульсирующей волны детонации с использованием ENO-схем различных порядков аппроксимации // Компьютерные исследования и моделирование. 2014. 6, № 5. 643-653.
Erpenbeck J.J. Stability of steady-state equilibrium detonations // Physics of Fluids. 1962. 5, N 5. 604-614.
Lee J.H. S. The detonation phenomenon. Cambridge: Cambridge Univ. Press, 2008.
Semenko R., Faria L.M., Kasimov A.R., Ermolaev B.S. Set-valued solutions for non-ideal detonation // Shock Waves. 2016. 26, N 2. 141-160.
Kasimov A.R., Stewart D.S. On the dynamics of self-sustained one-dimensional detonations: a numerical study in the shock-attached frame // Physics of Fluids. 2004. 16, N 10. 3566-3578.
Лопато А.И., Уткин П.С. Детальное математическое моделирование пульсирующей детонационной волны в системе координат, связанной с лидирующим скачком // Журнал вычислительной математики и математической физики. 2016. 56, № 5. 856-868.
Toro E.F. Riemann solvers and numerical methods for fluid dynamics: a practical introduction. Berlin: Springer, 2009.
Liou M.-S., Steffen C.J. Jr. A new flux splitting scheme // Journal of Computational Physics. 1993. 107, N 1. 23-39.
Chen G., Tang H., Zhang P. Second-order accurate Godunov scheme for multicomponent flows on moving triangular meshes // Journal of Scientific Computing. 2008. 34, N 1. 64-86.
Куликовский А.Г., Погорелов Н.В., Семенов А.Ю. Математические вопросы численного решения гиперболических систем уравнений. М.: Физматлит, 2001.
van Leer B. Towards the ultimate conservative difference schemes, V. A second-order sequel to Godunov's method // Journal of Computational Physics. 1979. 32. 101-136.
Shu C.-W., Osher S. Efficient implementation of essentially non-oscillatory shock-capturing schemes // Journal of Computational Physics. 1988. 77, N 2. 439-471.
Mavriplis D.J. Solution of the two-dimensional Euler equations on unstructured triangular meshes. PhD Thesis. Princeton: Princeton Univ., 1987.
Mahmoudi Y., Mazaheri K. High resolution numerical simulation of the structure of 2-D gaseous detonations // Proceedings of the Combustion Institute. 2011. 33, N 2. 2187-2194.
Митрофанов В.В. Детонация гомогенных и гетерогенных систем. Новосибирск: Изд-во Ин-та гидродинамики им. М.А. Лаврентьева СО РАН, 2003.
VisIt. Электронный ресурс. Режим доступа: https://wci.llnl.gov/simulation/computer-codes/visit/. Дата доступа 6.10.2017.
Gamezo V.N., Desbordes D., Oran E.S. Two-dimensional reactive flow dynamics in cellular detonation waves // Shock Waves. 1999. 9, N 1. 11-17.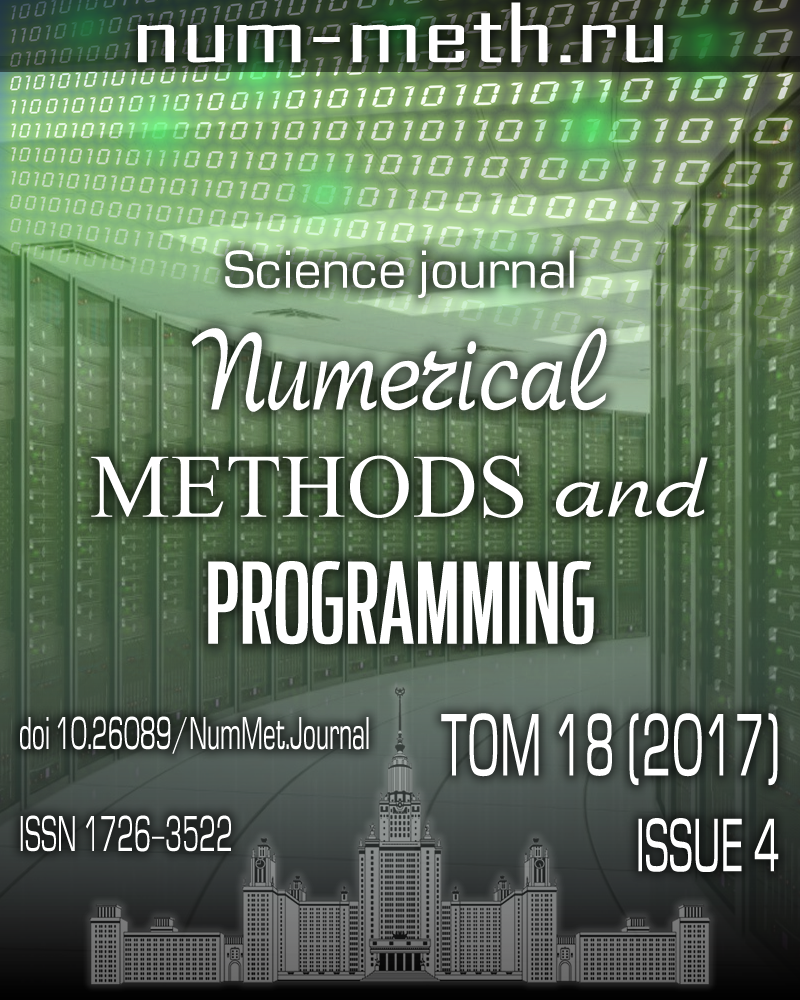 Downloads
How to Cite
Лопато А.И., Уткин П.С. Specific Features of Mathematical Modeling of Flows With Detonation Waves on Unstructured Computational Grids // Numerical methods and programming. 2017. 18. 348-358. doi 10.26089/NumMet.v18r429
Section
Section 1. Numerical methods and applications